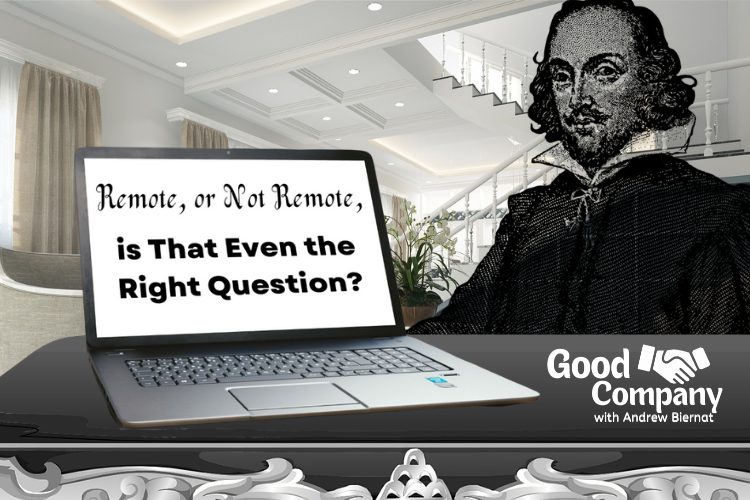 Remote, or Not Remote,
is That Even the Right Question?
I opened a letter recently that looked like a routine address update. The following line caught my attention:
"As we adapt to new ways of doing business, the Seneca Lake Wine Trail will close its brick and mortar office in Watkins Glen, and our employees will transition to full remote work as of January 1, 2022."
Here was an organization that had switched to remote work during the pandemic and had seen enough positives from it to make the change permanent.
Unless you've been living under a rock the past year and a half, you've undoubtedly been inundated with news articles, data, and rampant speculation about the nature of remote work and its future in our society.
Like most issues nowadays, the concept and application of remote work is polarizing. Some believe that it is the Shangri-la of efficiency and independence, while others believe it is destroying everything from company culture to workplace innovation.
So, which is it?
Well, that all depends.
Anecdotal evidence and recent research suggest that in the short term, productivity does increase in the switch to remote work. With less commuting, no chatting by the water cooler, and fewer interruptions, employees are finding that they can get more done in the amount of time they have.
A Washington Post article summed up the counterpoint well:
"Over the medium to long term, long-distance employment can't deliver key benefits — including learning and new friendships — that come from face-to-face contact. In-person work fosters innovation, the effects of which on productivity almost certainly exceed the gains from working harder at home for possibly unsustainable stretches."
For now, the best strategy is to rely on personal experience, intuition, and listening to the stories that are happening around us.
Brittany Gibson, Executive Director of the Seneca Lake Wine Trail and the sender of the letter referenced earlier, has taken her small team fully remote. With a total staff of two, meetings and appointments that were already handled by Zoom before the pandemic, and minimal amount of foot traffic at their office, remote work made too much sense not to go all-in.
"We are both organized, honest, responsible, self-starters. I think those traits are key to being successful in a remote work environment. As the leader of the organization, I personally see that business is going away from focusing on a strict nine to five schedule and more focused on task-based performance. In other words, for me, I prioritize productivity far above marking time on a clock.

I believe this is the future of the workplace and there are many studies that suggest that efficiency and productivity are often stymied by employees who find themselves distracted or completing silly tasks/busy work all to make for a standard, 8-hour workday


For us, we will still be available Monday-Friday, 8am-4:30pm just as our members and customers would expect, and we are eager and excited about the opportunities (and substantial savings for the organization!) that remote work presents."
This concept is not new. For an entrepreneur, this is the only way that business is done. Provide value and you are compensated for it. The employed workforce is becoming more entrepreneurial as well. The growth of new ventures and single person corporations is at its highest rate in decades. Upwards of 40% of workers have a "side hustle." Employees are seeking flexibility as the benefit of choice from employers.
Dixon Schwabl + Company, a full service marketing company, is a notable example of a local business embracing a hybrid model. They surveyed their 100+ person team and found that each employee had a different preferred work style and the company worked at accommodating those styles. Some employees are fully remote, some fully in-person, and many have certain days at home and certain days in the office. Worth noting is their recent nod by Forbes as one of the Best Places to Work in New York State.
Many other companies have stronger roots in their physical workplace. When the delivery of a service happens on location, it can be hard to go remote. At the Canandaigua Chamber part of our work is directly speaking with the community in the Visitor's Center located on Main Street in Canandaigua. While we tend to be physically present, we have the flexibility to work from home for illness, appointments, and other commitments.
Remote work is not going away and it's an elephant in the room that needs to be recognized as an alternative when culture, talent, and nature of work allow for it.
The question is no longer remote work or not, but instead how it might work for you and your team.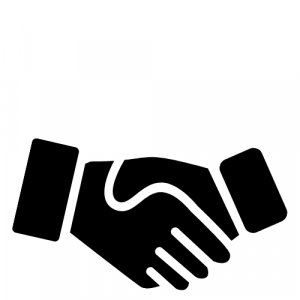 -AB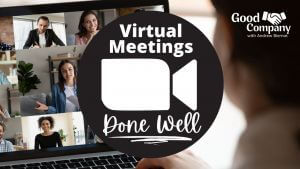 Virtual Meetings Done Well Zoom fatigue. It's become a real thing. I can remember a Simpsons episode from my childhood where Homer got a new fangled wall phone that had a video screen in it. At the time I thought it was preposterous and that there was no way we'd ever be able to talk…